I ended up having a really nice time in and around Las Vegas. On Saturday evening, we walked all the way from the Econo Lodge where we were staying to the Bellagio, where Cirque du Soleil was performing. A long, hot walk, but a good educational look at the Las Vegas scene.

The show, "O", was incredible, both artistically and athletically. And it was clever - clever arrangement of bodies, clever wordless humor, clever engineering. The entire stage could be raised and lowered, in different sections, to create solid ground or pools of water deep enough for the artists to do high dives into. The backstage tour would be fascinating.

We had a nice Italian dinner after the show, and then had leftover pizza for breakfast on Sunday morning before heading off to Death Valley.

Death Valley is insane. We went to Badwater, which is the lowest place in the western hemisphere. The temperature was close to 120°F, and there were equally hot blasts of 60 mph wind. It's truly incredible that plants are able to survive there. We checked out Artists Drive, which loops through hills with very pretty sedimentary layers - years of mineral deposits have turned them green, violet, burgundy... barren, but neat. And it was really hot. Our poor car was overheating, so we drove around with the heath blasting and the windows wide open. Before any spontaneous combustion occured, we headed back to Nevada, which was hot but felt *so* much more bearable. We stopped at a gas station for dinner food - bread, peanut butter, bananas, and wine - and then found our campsite on the top of Mt. Charleston, which was thankfully cool and breezy. We slept well.

We spent Monday back at Red Rock Canyon, which was great. We found some neat hikes and were even more wistful that we had our climbing gear. We got back to Vegas in the afternoon, showered and napped, and then met Scott's parents, their friends, and my friend Seth for dinner. The food was terrific, as was the company. I haven't seen Seth since high school, so it was great to catch up with him.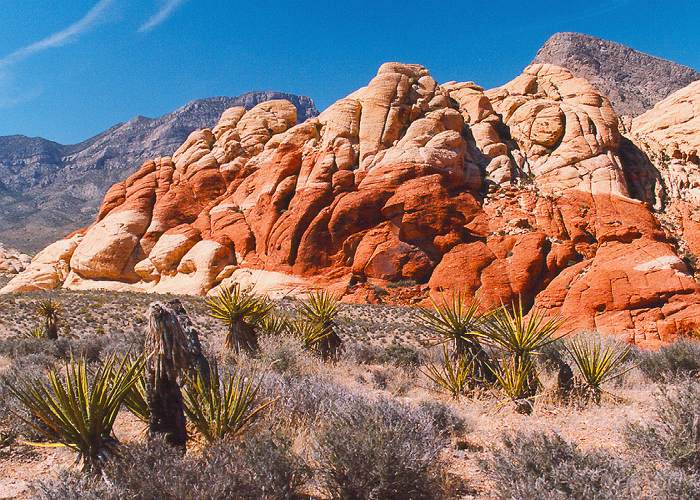 The rocks at Red Rock Canyon
(Photo credit)

On Tuesday morning, we left for the Grand Canyon! But right now, I'm ready for bed, so I'll save those details for another post. I'll just say that my weekend in Vegas was terrific, but it was nothing compared to my week in the canyon.