Abstract: I'm having a great time, and Turkey is fascinating.

Thursday: We mini-vanned to Bergama (formerly Pergamum). The Greeks founded it in the 8th century AD, but it got really famous when the Roman physician Galen set up shop there in AD 129 and made it the Mayo Clinic of its time. The ruins were neat, but I think we'll all remember the school children the most. We ran into a group of about 30 kids - fourth graders maybe? - who were really excited to talk to us. Their guide spoke good English and Margaret speaks enough Turkish that we could ask questions of each other. After that, the kids just had a great time practicing their English on us: What is your name? My name is _. How old are you? Where are you from? What is your favorite football team? Fortunately, Margaret had taught us about Turkish soccer - Fenerbahce is the most popular team, so when I told them I rooted for Fenerbahce, they all cheered. Then they discovered that I have a tongue piercing and I was completely mobbed. I kept trying to say goodbye and to find the rest of my family, but I was like the Pied Piper! Finally their guide called them back, and we toured the rest of Aesklepion in peace. Great day.

We also saw the Red Basilica, which is referenced in Revelations as one of the seven churches of the Apocalypse. Originally a Roman building, it's so big that instead of taking it over, the Christians just built a smaller church inside of it. We mini-vanned to Izmir, Turkey's 3rd largest city, and spent the evening wandering through the bazaar and enjoying raki (anise liqueur) and mezes.


Friday: We flew to Kayseri in the morning, which is in central Turkey and took a van to Urgup, our home base in the Cappadocia region. This area is made up of very soft stone (the result of volcanic ash) topped with harder volcanic stone. The tuff is so soft that people have been digging caves into the hillsides and inhabiting them for thousands of years.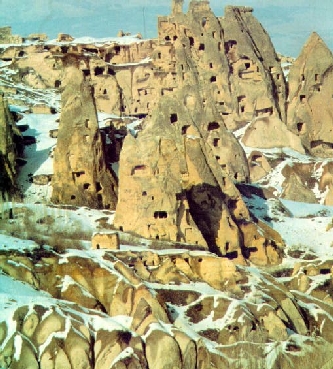 We spent Friday afternoon learning about carpet making, and then shopping for carpets. It was really interesting (We saw how they make silk thread from the cocoons of silk worms!) and definitely gave us a greater appreciation for the handmade rugs we see everywhere. My aunt and uncle bought two gorgeous carpets, and my parents bought two simple kilims (woven, not knotted) for the cabin. It was a stormy day - lots of wind and a little rain - so it was good to stay inside.