Just four weeks left until we settle in Davis. August will be fun and hectic, with a trip to California for Sibley and Nina's wedding, a trip to Minnesota to visit my family, and a trip to Maine for a Sheep retreat. Happily, I've been doing a good job of soaking up DC the past few weeks. Some highlights:

I finally went to Twins Jazz on U St. There are loads of places to enjoy live jazz along U St, but I'd been meaning to visit Twins specifically ever since my friend Paul recommended it to me years ago, as one of the best. I had a guest in town, so it was the perfect excuse to show her a cool niche of the city. Tuesday is Afro/Brazilian/Cuban night, and it was fantastic. Kicking myself for not checking it out earlier... but better late than never.

Similarly, I finally got around to getting lunch from The Well-Dressed Burrito. It has a fantastic reputation, despite its lowly location - a sketchy looking door in an alley opens into a space that looks more like a community center kitchen than a ravely-reviewed restaurant. Perhaps the best part is that it's only a block away from the secret garden, so you can get your lunch from an inauspicious hole in the wall and eat it in secluded beauty.

We got to watch a trio of Venezuelan breakdancers perform on the corner of 11th and U, right outside the Bohemian Caverns. Their tour is sponsored by the State Department, but the show felt anything but official. It was casual, friendly, spontaneous. They had incredible yoga-on-crack balances. Cirque du Soleil meets hiphop. They're amazing artists, but generously shared the linoleum with anyone else who wanted in. I love DC for the fact that this kind of thing is special, but not wholly unexpected. It's easy to stumble across free, world-class entertainment (like Joshua Bell playing in a Metro station).

For our weekly training session last week, my frisbee team needed a good flight of stairs, and most convenient location just happened to be the Jefferson Memorial. It's one of the prettiest - it's modeled after the Pantheon in Rome and sits overlooking the tidal basin. We piled our bags in a place that wouldn't upset tourists' photos, and spent a sunset hour sprinting and hopping up the stairs. I'm going to miss having such easy, casual access to places like this.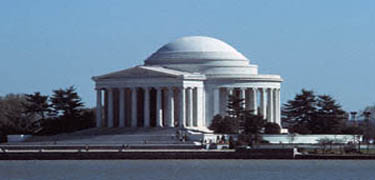 Lately it's been hot and humid. Just about any bike ride gets you sweaty. It's 97*F out right now, and the humidity is predicted to rise from the current 34% to 64% tonight. Somehow, I love it. It feels like summer, when you're supposed to be all messy. You just resign yourself to being damp all the time, either from being outside or from taking a shower and never quite drying off. I love DC in the summer. (I love MN in the summer too... maybe I just love summer.)